Round 13 of Super Rugby sees Keo (the heart) go up against The Oracle (the head) in another "Head vs Heart" offering you betting advice for the weekend ahead. Be sure to check out their wins and losses from last week and along with this week's calls and decide who's advice you'll be taking.
Oracle – R1000 staked
Jaguares profit 135
Lions profit 135
Waratahs loss 500
Bulls loss 400
 Loss 630
Keo – R1000 staked
3 singles won
1 multiple lost
Return of R1152
Profit 152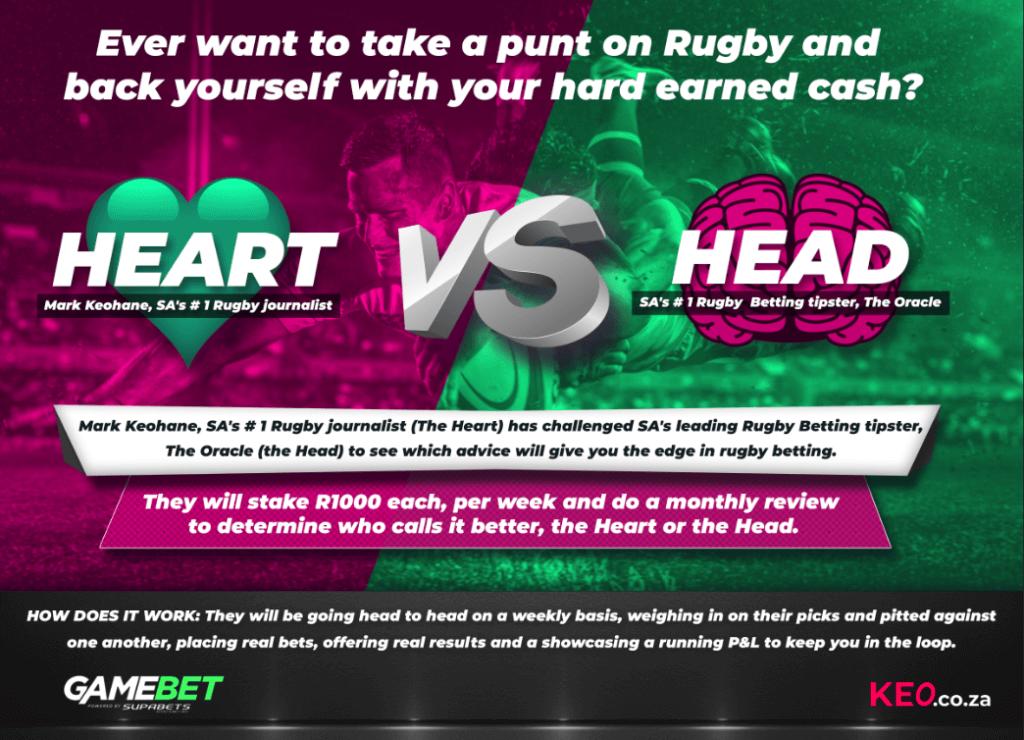 ROUND 13 PICKS
ORACLE (HEAD) R1000 staked
Blues vs Hurricanes
Call: Blues to win the game at 5/2 for 300
Sunwolves vs Reds
Call: Sunwolves +7.5 at 500 (Sunwolves to win or lose by 6pts or less)
Highlanders vs Lions
Call: Lions +6.5 at 150 (Lions to win or lose by 6pts or less)
Multi
Call: Sunwolves to win at 2/1 onto Lions to win at 2.45/1 and Blues to win at 5/2 gives us a wonderfully valued multi at 35/1 for a bet of 1,750/50 (All of Lions, Sunwolves & Blues to win their respective games)
KEO (HEART) – R1000 staked
Crusaders vs Warathas
Call: Crusaders by less than 20 for 200
Brumbies vs Rebels
Call: Brumbies by more than 5 for 200
Highlanders vs Lions
Call: Highlanders by more than 7 for 200 rand
Multi (R400)
Hurricanes to win by more than 10, Reds to win by more than 15, Stormers to win by less than 8, Bulls to win by more than 8.