Which Springbok No 8 has been that good since 1992 that Mark Keohane, in his series #DreamTeam would overlook the brilliant Duane Vermeulen and which international No 8 edges New Zealand's Zinzan Brooke?
ALSO READ: MY PICKS AT NUMBER 9
Duane Vermeulen was colossal for the Springboks in winning the 2019 World Cup. He was equally immense when the Springboks in 2018 won the first two Tests against Eddie Jones's England in Johannesburg and Bloemfontein respectively.
Vermeulen was at the heart of everything strong, uncompromising and powerful about the Springboks under Rassie Erasmus. His most recent 18-month international spell has been his most influential.
Vermeulen, at 34 years of age, has one more international season left. He has indicated his availability for Springboks selection for the hyped and much anticipated 2021 three-Test series against the British & Irish Lions.
Vemeulen, who made his Test debut in 2012, has played 54 Tests, in which the Springboks have won 71%. Vermeulen, in 2019, was considered the form No 8 in world rugby and it seems inconceivable now that 2007 World Cup-winning coach Jake White never selected Vermeulen in his four-year tenure and successor Peter de Villiers also never invested in the undoubted talents of Vermeulen.
White's No 8 choices varied between Pierre Spies, Juan Smith, Danie Rossouw, Joe van Niekerk and Bob Skinstad. White would argue he was blessed for No 8 talent and it would be difficult to counter this given the quality of these players. Vermeulen, it could be argued, was a late bloomer, although I wouldn't buy into that argument.
Consider this, former All Blacks captain Kieran Read made his Test debut in 2008 and at the conclusion of the 2019 World Cup had played 127 Tests. Read and Vermeulen are both 34 years-old, yet the Kiwi played more than double the Tests, which underscores just how underutilized Vermeulen was as a Springbok.
Vermeulen has presence, was always considered a go-to man by his teammates and commanded the utmost respect from the opposition.
Physically, there haven't been too many No 8s as imposing as Vermeulen and one of my fonder memories is watching Vermeulen man-handle England's No 8 strong man Billy Vunipola at Twickenham. Vermeulen tossed Billy around like he was a rag doll on that victorious Springboks afternoon at Twickenham.
Vermeulen is a class player and his exploits at the 2019 Rugby Cup ensure him a place in Springbok rugby folklore. He isn't my selection as the best Springbok No 8 I have seen since 1992, but he is pretty darn close.
There have been some mighty No 8s who have worn the Springboks No 8 since 1992. Jannie Breedt, in 1992, was comfortably the owner of the Bok No 8 jersey, by virtue of having dominated the domestic scene during South Africa's international isolation in the 1980s.
Western Province's Tiaan Strauss was consistently good for Western Province and the Springboks. Strauss, the Western Province captain, missed out on Kitch Christie's 1995 World Cup squad as Christie felt he had to choose either his provincial Transvaal captain Francois Pienaar or Strauss. Christie didn't feel the squad dynamic, back in 1995, could accommodate both players' personalities. Christie naturally backed the captain he knew and believed in and history can't argue with his decision. The Springboks, led by Pienaar, won the 1995 World Cup.
Strauss, in 1996, would join Rugby League's Super League. When the competition fell flat, Strauss stayed on in Australia, played for the New South Wales Waratahs and played Test rugby for Australia. Strauss, the darling of Newlands, would experience a very emotional Test match against the Springbok at Newlands in 1999 before finishing his career as a World Cup winner with Australia in 1999.
Strauss played at No 8 and on the flank for the Boks and Wallabies and he would debut for the Springboks in 1992 against France, play 15 Tests for the Boks, and experience 11 Tests for the Wallabies between 1996 and 1999.
Adriaan Richter captained the 'second string' Springboks during the 1995 World Cup. Christie played the tournament with a confirmed First XV and Second XV, but he did shock with his selection of first choice lock Mark Andrews at No 8 for the final against the All Blacks. Regular No 8 Rudolf Straeuli, a star for the Springboks on the end of year tour in 1994, was among the substitutes for the 1995 World Cup final. History will also show that Christie got it right with his selection because Andrews played a blinder and the Boks won.
South African rugby is as blessed with loose-forward talent, as the All Blacks are with left and right wingers. So many outstanding players have worn the Bok 8 jersey in the past three decades.
Schalk Burger, a beast in the No 6 and No 7 jersey, throughout his 86 Tests, made his Test debut off the bench at No 8 against Georgia at the 2003 World Cup. Burger would also play at No 8 on occasion during the 2007 World Cup.
The 2019 Rugby World Cup-winning coach Rassie Erasmus was another of those multi-talented loose-forwards, who was equally comfortable in wearing Nos 6,7 and 8 in his 36 Tests. A foot injury would put an abrupt end to his international playing career before he had turned 30.
Juan Smith, so good and so tough, played 70 Tests for the Springboks. Smith's international career was also limited in the latter stages after he tore his Achilles Heel and prematurely returned to Super Rugby. The injury was deemed so bad that it was thought Smith would never play again, but he made a miracle comeback for Toulon and for three years and 96 matches was part of the potent European Champions, playing alongside South Africans Joe van Niekerk and Danie Rossouw.
Van Niekerk was a spectacular talent, being named the best under 20 player in the world in 2001, despite the baby Boks finishing eighth in a tournament that also featured New Zealand's Richie McCaw.
Van Niekerk's best position was at No 8, where he led Toulon with such distinction in a 122-match club career. Van Niekerk, so blessed with athleticism and speed, was also cursed with injury to his groin, knees and lower back. His versatility in being able to play 6, 7 and 8, and also start or play off the bench, was as much a strength as it was an overall weakness. He never quite settled in one position but was a star in the 2004 Springboks Tri Nations championship-winning campaign.
Van Niekerk played the last of his 52 Tests in 2010 and retired after Toulon's 2014 European Cup final. Van Niekerk had the rare distinction of captaining SA Schools, SA under 19s, SA under 21s and making his Test debut before ever playing a Currie Cup or Super Rugby match.
Van Niekerk's era dovetailed with the last years of Bob Skinstad and the early years of Pierre Spies. Both Skinstad and Spies were phenomenal athletes, with Skinstad's potency curtailed because of a serious knee reconstruction after a car accident in 1999. Skinstad has often been described as the most naturally gifted of all the loose-forwards and his best years were from 1997 to 1999, pre his car accident. He would play 42 Tests, with his second half cameo against the Wallabies at Ellis Park in 1998 a powerful memory. His show and go dummy to beat Australian midfield master Tim Horan and score is the stuff of legend. Skinstad retired from rugby in 2003 and made a tremendous comeback in 2007 to win selection to the 2007 World Cup squad, where he captained the Boks against Tonga in the Pool Stages.
Spies, who missed the 2007 World Cup because of a blood clot and illness, was another who could play in all loose-forward positions and early on in his Super Rugby career even played on the wing.
Spies played 53 Tests, with a career highlight the 2009 series win against the British & Irish Lions. Spies would play his final Test in 2013.
Danie Rossouw added to the wealth of loose-forward talent in the 2000s. Rossouw was originally picked for the Springboks as a loose-forward, then converted to lock and is famous for his performances in the play-offs at the 2007 World Cup. Rossouw's covering 'push' tackle on England wing Marc Cueto just after half-time in the final denied England a decisive try.
Rossouw, the ultimate back five forward, would make any #DreamTeam 23 because of how good he was at lock, flank and No 8. He also played out his career at Toulon in a team that featured Bakkies Botha, Van Niekerk and Smith among the Championship-winning forwards.
Andre Vos, very similar to Strauss as a player, would alternate between No 8 and No 6 from 1999 to 2001, captaining the Springboks in 2000. He was committed, loyal and as tough as they come. I was at Newlands for that Strauss comeback Test and it was a case of the past meeting the present, when Vos buried Strauss with one monster tackle.
There has been no shortage of talent when it comes to Springbok No 8s, but the player who has stood tallest for me is former Sharks and Springbok captain Gary Teichmann.
I've never encountered a more unassuming and humble international captain in my nearly 30 years of reporting on Test rugby. Teichmann, in a very dramatic period of provincialism in South African rugby, was a leader who united players and, even if momentarily, got them to think of the Springboks before their provincial and regional jersey.
South African rugby, at the time of Teichmann's captaincy, was still very divided and provincially focused. He also managed the minefield that was English and Afrikaans-speaking players. Teichmann's class in how he managed his promotion to captain of the Springboks in 1996 and the axing of 1995 World Cup-winning captain Francois Pienaar typified his character as a person.
I was working for Sports Illustrated in 1996 and our cover story was my rugby lead of Teichmann and Pienaar. The layout showcased both players with a ragged tear separating them.
It was the eve of the Test against Australia in Bloemfontein and Teichmann saw me in the reception area. He called me over to discuss the piece. He said Pienaar deserved more from the publication and from me. He said he wanted to place it on record that as great a privilege as it would be to captain the Springboks, it was as much a privilege to just be a Springbok. He said he was comfortable playing under Pienaar, as he would be playing under whoever the selectors deemed the best to lead South Africa. He spoke about promoting unity and being in a position to positively influence the breaking down of provincialism.
It was a telling chat for me as a young rugby writer. I took it on board, but mostly what I took away was the memory of the calm and sincerity with which Teichmann delivered his message to me.
Teichmann was brilliant in captaining the Springboks to the 1998 Tri Nations title and he would lead the Springboks in 17 successive wins between 1997 and 1998. His final Test was against the All Blacks in Dunedin when the Boks were shut out 28-0.
Teichmann had been battling a knee injury, but the then Springbok coach Nick Mallett had already decided that Bob Skinstad was his future and Teichmann was something to be viewed in the archives.
Mallett, in recent years, has acknowledged how wrong he was in dropping Teichmann, and that he had underestimated just what Teichmann, as a player and leader, meant to the Springboks and to the 1999 World Cup challenge.
Teichmann, for all his career highs between 1995 and 1999, would never play in a World Cup. He would win against the All Blacks in New Zealand and beat every nation in his 42 Tests. Yet never did he trash talk a Springbok coach, a fellow player or an opponent.
Teichmann, for me, symbolized everything that should be mesmerizing in a leader because he did it with such simplicity and with such success, be it with the Springboks or at the Sharks.
TEICHMANN IN ACTION AGAINST THE ALL BLACKS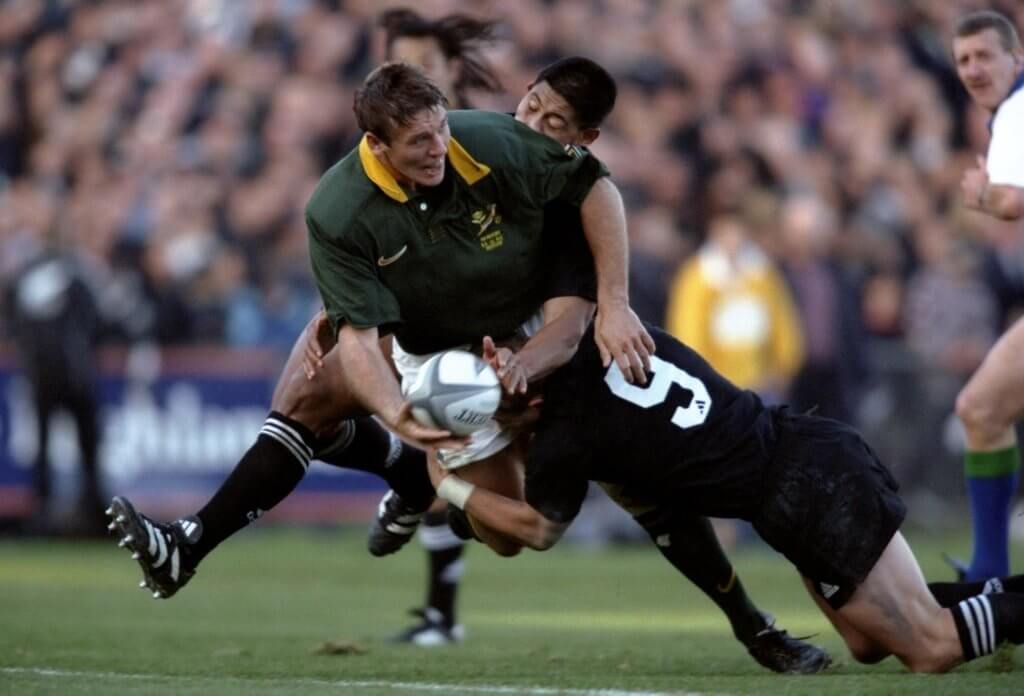 So, who lines up against Teichmann?
Take your pick!
There are just such fantastic players from other countries. Among the recent vintage, All Black Kieran Read is a standout. Read was as good a captain as he was a player. He won successive World Cups, numerous Rugby Championships and always led with dignity. He is a fan favourite and was a natural successor to Rodney So'oialo who played in 62 Tests for the All Blacks between 2002 and 2009.
All Blacks No 8 Zinzan Brooke was just so gifted as a footballer. Brooke's best years were between 1992 and 1996 and his drop goal against England in the 1995 World Cup semi-final at Newlands is something I will never forget. I was in the press box when he nonchalantly caught a linekick and, running at pace, banged over a 45 metre angled drop goal. There wasn't anything Brooke couldn't do with the ball in hand and he is one of the great No 8s to ever play the game.
I loved the bustle of Wales's Scott Quinnell, the consistency and all-round attributes of England's Lawrence Dallaglio and the raw power and presence of England's Billy Vunipola  and Australian duo Toutai Kefu and the Tongan Torpedo Willie Ofahengaue, who played 41 Tests between 1991 and 1998, with most of them at No 8. Ireland's Anthony Foley, a favourite when Warren Gatland coached Ireland, inspired in his 53 Tests and Jamie Heaslip and South African-born CJ Stander have always been worthy of applause. Similarly, Wales's Taulupe Faletau and Argentina's  Juan Fernandez Lobbe and Juan Manuel Leguizamon, although Lobbe will get more mileage when I discuss my flankers.
Louis Picamoles was a brute and I always enjoyed the style of France's Imanol Harinordoquy. The English players would bait Harinordoquy and call him 'Harry Ordinary', but there was nothing ordinary about the 82-Test veteran and winner of five Six Nations titles between 2002 and 2010.
Samoa's Samu Manoa was a monster, but his impact has mostly been playing club rugby in the northern hemisphere and Samoa's Henry Tuilagi was such a force. If rugby was a 40-minute affair, there wouldn't have been a better No 8 than the French-based oldest brother of the famed Tuilagi clan.
Damn, he was tough and some of his most brutal hits are on video from Top 14 matches, when Tuilagi played for Perpignan. There is one particular tackle on Joe van Niekerk that I still don't know how Joe got up, let alone continued playing.
I got to spend an evening with Tuilagi when I was in France writing Percy Montgomery's biography. Monty was playing for Perpignan and on this particular Saturday night, he played host to South African loose-forward Gerrie Britz in celebration of Britz's birthday.
Hulk Henry arrived, educated me in how to drink Napoleon brandy and spoke with such love about Samoa. I asked him if he ever considered what his career could have been like if he had made himself available for the All Blacks. He didn't even blink in answering there was only ever one choice for him, and that was his beloved Samoa.
Monty would often joke that when he trained contact at Perpignan, he would scream out: 'I am on Henry's team.' Monty explained this as the Perpignan coach having had a particular play he liked, which entailed the fullback running a line straight at the opposing No 8! Monty didn't mind that play in a match, but at practice it meant running straight at Tuilagi.
The Springboks at the 2007 World Cup got to feel the full force of Tuilagi, if only for 46 minutes.
Jake White, after the match, joked that he had never seen one forward hit Os du Randt in a tackle so hard or heard Os utter a grunt of pain, as if he had been winded. Tuilagi did this and his wrecking ball first half performance had the Boks in awe and hysterics at half time.
White says the players mocked each other at who had taken a collision beating from Tuilagi, and this included Os, Schalk Burger, Danie Rossouw and Juan Smith. There was one moment Tuilagi carried all three loose-forwards on his back in a tri-factor tackle.
White said the players could joke, despite only leading 9-7 at halftime, because they knew the big guy didn't have much more left in the tank. Tuilagi would last another six minutes before being subbed and the Bok players were willing to give him a guard of honour, such was their relief he was gone for the day and for the tournament.
So, who does get to line up opposite Teichmann?
Italy's Sergio Parisse, who made his debut as an 18 year-old against the All Blacks in 2002.
Parisse, sensational when playing for Stade Francais in his best years, in 2020 is in his final year of a Test career that has totaled 142 Tests, in which Italy has been on the losing side 106 times.
No player has lost as many Tests, but no player has given so much to a losing cause.
If Parisse had played for France, South Africa, England, New Zealand or his country of birth Argentina, his playing numbers would have read very differently. His class though would have been evident, no matter which team he represented.
When determining my choice of international No 8, it came down to who could it be if not Zinzan Brooke? I went with Parisse because he has similar skill and an international longevity that is unrivalled.
WATCH: SERGIO PARISSE SHOWS HIS CLASS