Ruggo, an App at the forefront of managing the progression of schools and club rugby to an era of semi professionalism as it offers a smartphone-accessible match analysis app that allows people to "code" for matches and end up with a general statistical overview at the end of the game.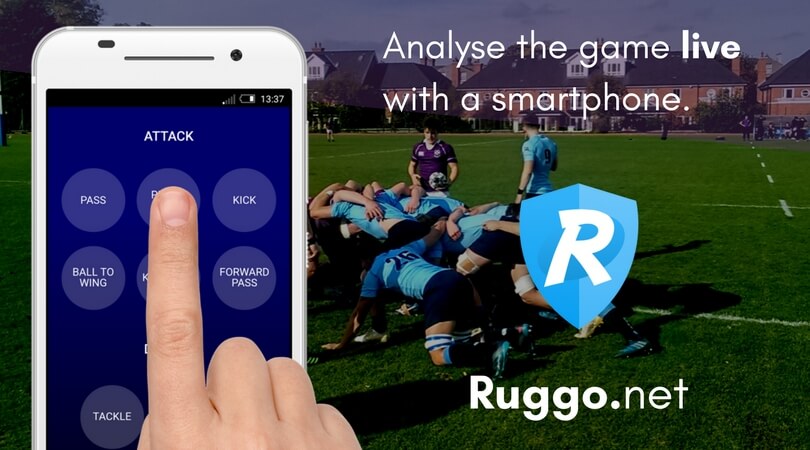 keo.co.za speaks to Brendan Shields of Ruggo on his app and what he envisions for it in the near future.
How did the Ruggo initiative begin?
The idea for Ruggo started around 2013, when I left Bethlehem to work for a year in Ireland. There I met former Springbok Dan Van Zyl, a development coach at Leinster Rugby. Dan is a creative guy who works in a high performance environment, and I was fortunate to pick his brain on some of the issues surrounding the schools and club game. One key problem in the amateur game is the cost of existing analysis systems, which are designed for professional rugby and a bit overkill for schools and club rugby, especially at junior level. I always felt that its no good introducing your first team players to analysis when they leave school a few months later. However the video/software based systems are just too pricey for most schools.
How long did it take for the vision to take fruition and the App to be fully developed to your guys' specific liking?
All in all it took about 3 years to reach a point where we could actually start coding this program. Remember Ruggo does not use video material – instead you code the game live with your 2 eyes and a smartphone. We were therefore always limited as to the amount of functionality we could incorporate. There was also the human element and knowing that our target user was most likely going to be a young kid with a standard knowledge of the game. For example I wanted to measure line-break, but most of my testers got so excited when a line-break occurred that they forgot to press the button! 🙂
Ruggo is specifically aimed at Schools and Schoolboys, what is your opinion on the movement of Schools rugby to an era of professionalism?
A move to semi-professionalism in schools rugby is inevitable, and does not have to be seen as a bad thing. Rugby now offers a great many job opportunities, not only for players but for a wide range of other roles. Running a well-organised and modern schools rugby program is therefore as important as running a great academic program. Its all about creating opportunities for learners to not only have fun but to also pursue careers. Ruggo is an introduction to sports analysis, and the hope is that schools involve their IT and computer classes in some way in the rugby program by helping run stats on behalf of teams.
What are your goals for Ruggo in its inaugural year?
I want as many school and club teams in the world to start embracing data as an exciting new way to play and coach the game. Young players like to be challenged in ways other than just winning or losing – so by having players focus on the amount of balls they send to the wing – or the amount of ball handles they need to score a try ,we want to help coaches set exciting goals for players and get them to engage in new ways with this great sport.
How do you think Schools, Clubs and coaches can best implement the Ruggo app to use it to its full benefit? Do you think it requires technical analysts on the management teams or do you think schools/clubs should try and get their kids/members on board with the App to monitor their own first teams and then provide the coaches with the recorded statistics?
Most of the guys who tested Ruggo in SA and Ireland were injured players or guys with an interest in the sport but who were not really making the team. We have also used parents and assistant coaches to score games. I think at the start its best to have two guys score a game, with one watching the action and the other punching in the data into a smartphone. Once you get the hang of it its rather easy for a single person to score a game, but we do advise schools to use learners who are not easily distracted and who understand the importance of the data.
How has the uptake been in terms of registration?
We were fortunate to be approached by Kyknet and Virseker to cover the Virseker beker this year. This means that a great many schools signed up to analyse their under 14A, 15A, 16A and First teams – with Virseker running some cool analysis snippets on their live coverage and weekly TV show. This new angle will forever change how the schools game is broadcast. We have also received a huge amount of registrations from club teams in the United States and Canada. Our goal is to market the product in New Zealand and Australia from March onwards, and then hit Europe and the UK in June. However as a proud Freestate-based company its vital that we get great traction in SA – especially in the 'platteland' – where Ruggo will help those with less resources compete against those with more.
find out how Ruggo works: Ruggo.net