Keo's heart and the Oracle's head are in very different places when it comes to where they are putting their money in this weekend's Super Rugby match-ups,
They disagree on every match!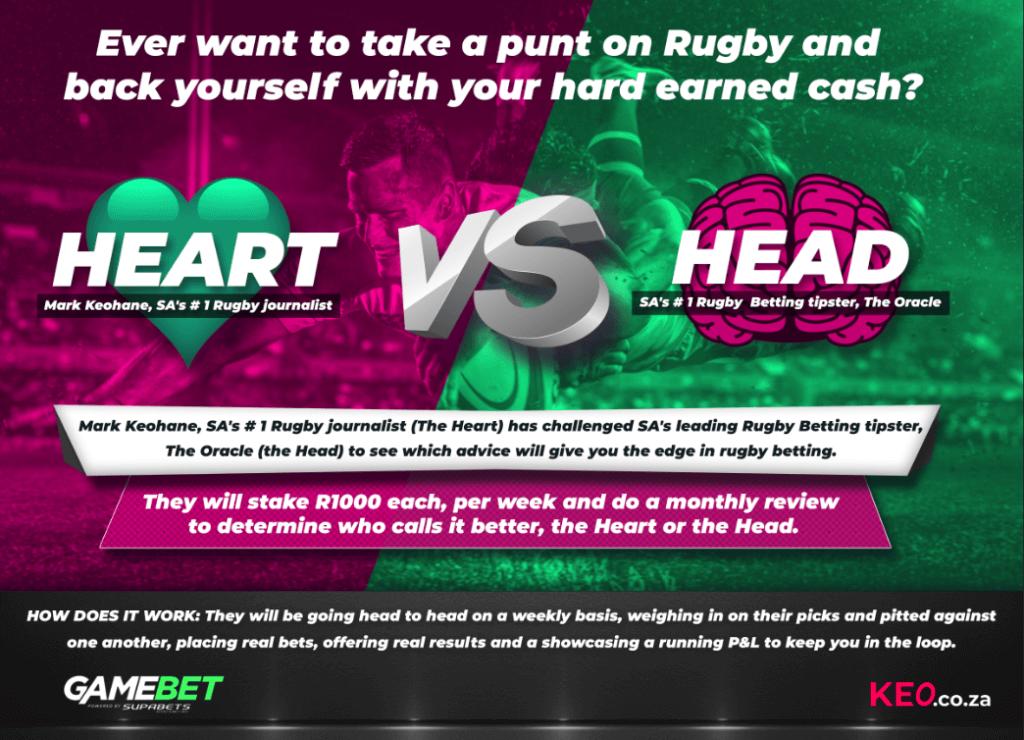 KEO's CALLS
Hurricanes vs Reds
Reds +27.5 at 9/10 which means the Reds can lose by 27pts or less and or win the game.
Sunwolves vs Stormers
Sunwolves to lose by more than eight.
Blues vs Crusaders
Blues to lose by more than 10.
Waratahs vs Highlanders
Waratahs to win.
Sharks vs Chiefs
Sharks by more than eight.
Lions vs Brumbies
Lions to win by 16 or more.
Jaguares vs Bulls
Bulls to win.
ORACLE's Plays
Sharks v Chiefs
I am not buying into the hype of the Chiefs fielding a weaker team, there is no such thing. The price on the Chiefs to win the game is too big to ignore and that is what gets my call this week. Call: Chiefs on the board at 28/10 (2.8/1) for 150 (Chiefs to win the game)
Jaguares v Bulls
The Jaguares are on a high, they are the first non NZ team to win four on a tour and they are about to make their own history by going five for five. This price is all about disrespect and will be duly punished by me. Call: Jaguares -3.5 9/10 for 500 (Jaguares to win by 4pts or more)
Sunwolves v Stormers
I feel that at current levels the Sunwolves offer value and I will have a go. Call: Sunwolves +8.5 at 300 (Sunwolves to win or lose by 8pts or less)
Multiple (Multi)
Sunwolves to win at 28/10 (2.8) onto Chiefs to win at 28/10 (2.8) onto Jaguares -3.5 at 9/10 (0.9/1) a decent multi that works out to 26/1 for a bet of 1,300/50
PLACE YOUR BETS AT GAMEBET.CO.ZA